CNC Water Jet Cutting Machine
CNC Water Jet Cutting Machine
Description of CNC Water Jet Cutting Machine:
This CNC water jet cutting machine, also known as CNC waterjet cutting machine or CNC water jet cutter, is mainly used to cut metal and nonmetal materials with high velocity and pressure, such as titanium alloy, copper, aluminum, cast iron, granite, marble, ceramic tile, chemical fiber, lumber, cloth, paper, and plastic. And it is widely used in many fields like mining industry, automobiles, paper, food, art and architecture.
It mainly consists of intensifier pump, cutting table, CNC system, auto sand delivering system, de-ionized water device, and water cooling tank. The CNC system has adopted EVOC brand industrial personal computer, special waterjet cutting software, and Omron brand PLC instead of relay.
This CNC water jet cutter features low noise, no pollution, high precision, good reliability, no dust generation, high cutting efficiency, and no heat deformation.
Besides, we can provide cutting tables at specific requirements of our customers, and examples will be given in the following chart.
| | | |
| --- | --- | --- |
| Model | Width | Length |
| CNC -1010 | 1000mm | 1000mm |
| CNC-1020 | 1000mm | 2000mm |
| CNC-1525 | 1500mm | 2500mm |
| CNC-4060 | 4000mm | 6000mm |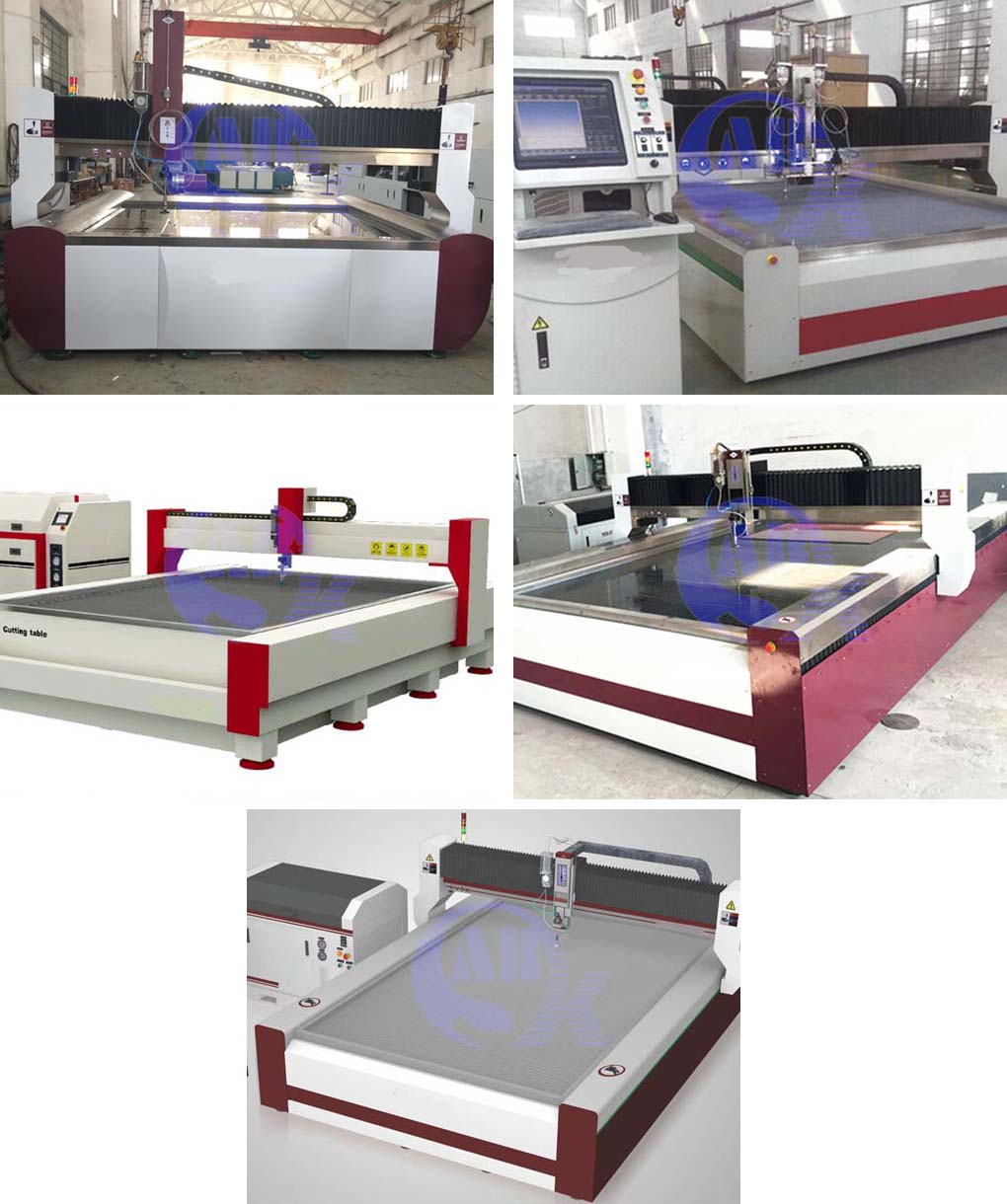 Wuxi ABK Machinery Co.Ltd is a professional manufacturer of CNC plasma cutting machine in China. And we can also provide our clients around the world with many other products including CNC table cutting machine, CNC water jet cutting machine, wind tower production line, H beam welding line, welding equipment, pipe welding equipment, grinding machine, roll forming machine, plate bending machine, etc. We have obtained ISO and CE certification, and we also offer OEM service. Our products have been well received by customers from many countries, such as Spain, India, Germany, South Africa, Brazil, Chile, Argentina, Russia, Italy, France, Vietnam, and more. If you're interested in our CNC plasma cutting machine, please don't hesitate to contact us whenever you want.