Welding Turntable
Description of Welding Turntable:
This welding turntable is mainly used for welding and assembling workpieces, and it is widely used in presser vessel production industry, petrol industry, chemistry, power stations, transportation, shipbuilding industry, steel field, and so on.
By attaching workpieces to the turntable, those workpieces are rotated to finish welding operation automatically. So it is an efficient way to improve the welding quality as well as to reduce the work load.
This welding turntable mainly consists of a worktable, a bearing, a base, a motor, and a speed reducer. And its worktable can be made according to specific requirements of our clients. Besides, some special welding turntable can be used in pressure vessel welding, round structure welding, and many other circular welding.
Features of Welding Turntable:
1. There are six T-shaped slots on the worktable in order to fix workpieces tightly.
2. Six stiffeners are welded on the rear side, thus the rigidity is largely improved and the deformation rate of the worktable is greatly reduced.
3. Worm gear box is adopted by this welding turntable.
4. It adopts stepless speed regulation method to ensure its reliable and stable performance.
5. It is easy to control and maintain, and it can meet various welding requirements of users.
6. The base is firm enough to ensure this machine stable turning.
Technical Parameters of Welding Turntable: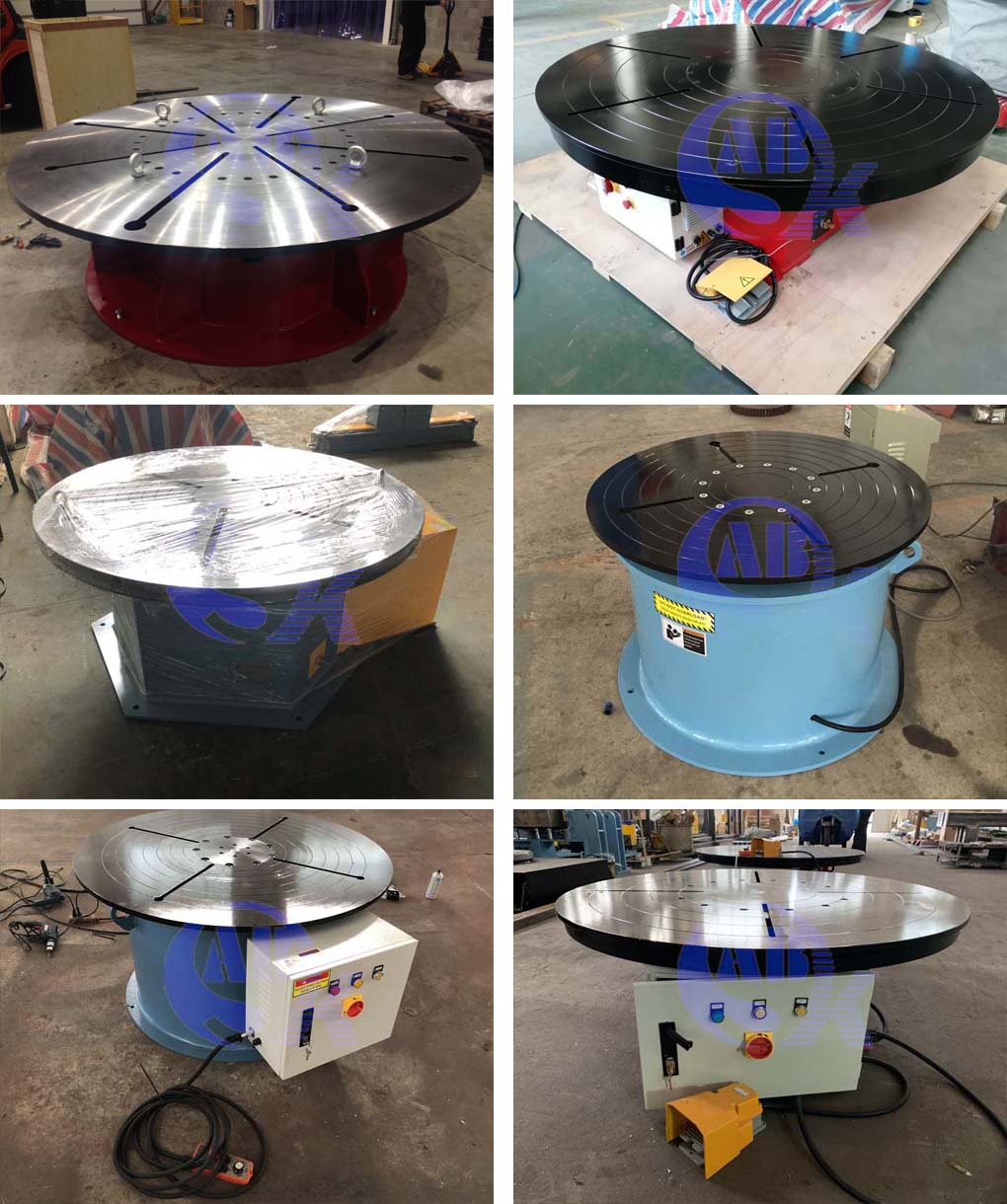 Established in 1999, Wuxi ABK Machinery Co.Ltd is a professional manufacturer of welding positioner in China. Apart from welding positioner, we still have many other high-quality products, such as welding rotator, welding turnable, wind tower production line, H beam welding line, pipe welding equipment, CNC cutting machine, grinding machine, roll forming machine, plate bending machine, etc. With ISO and CE certification, our products are quite popular among clients from Spain, India, Germany, South Africa, Brazil, Chile, Argentina, Russia, Italy, France, Vietnam, and more. If you need welding positioner, please contact us freely.