Submerged Arc Welding Tractor
Submerged Arc Welding Tractor
Description:
CSAW-1000 the utility model can be used for the welding of the flat / corner joint and the cylinder of the tank, and can also be used for the longitudinal seam welding of the cylinder with a diameter larger than 800mm. The category of cars have multiple configurations to choose.
The main components:
1) The magnetic adsorption component equipped with fillet welding, suitable for welding seam of tank bottom and feet;
2) The 3+1 wheel design unique, stable and use of both;
3) The walking worm drive, and equipped with clutch, convenient non welding state handling;
4) The grooved wheel, which can be used alone without rail; and can adapt to the angle of self-made track;
5) The United States is equipped with Miller welding system;
6) The equipment of infrared laser sight, convenient alignment of weld;
7) The wire diameter of 2.4mm~4.8mm;
8) Butt and lap, broken wire and inside and outside the tank bottom welding seam feet.
LIST:
NAME:CSAW-1000 conner auto welding machine
MODLE: CSAW-1000
LIST:CSAW-1000 type automatic submerged arc welding machine for input 380V+10%/3PH/50Hz boxer, call, floor / feet seam welding construction, single machine comprises the following components:
NO

COMPOSITION

MANUFACTUER

QUA

REMARK

1

Automatic welding system

3+1 Wheel self walking car

WUXI ABK

1SET

CHINA

The torch position regulator

Torch angle trimmer

Flux hopper and lower material component

Infrared laser welding device

In / outside gap magnetic adsorption three piece

2

WELDING SYSTEM

DC1000 LINCOLN

USA

LINCOLN

1SET

Original

NA3 FEEDER

NA3 CONTROLLER

3

CABLE

WELDING CABLE(150mm2 x 60m x1)




1SET




CONTROL CABLE(2.5 mm2 x 10p x60m x 1)

ERATH(150mm2 x 5m x 1)

POWER CABLE(4mm2 x3p x60m x 1)

QUICK CONNECTOR

4

POWER RACK

CABINET

WUXI ABK

1SET




WELDING POWER FRAME

5

TOOLS

TOOLS

WUXI ABK

1SET

CHINA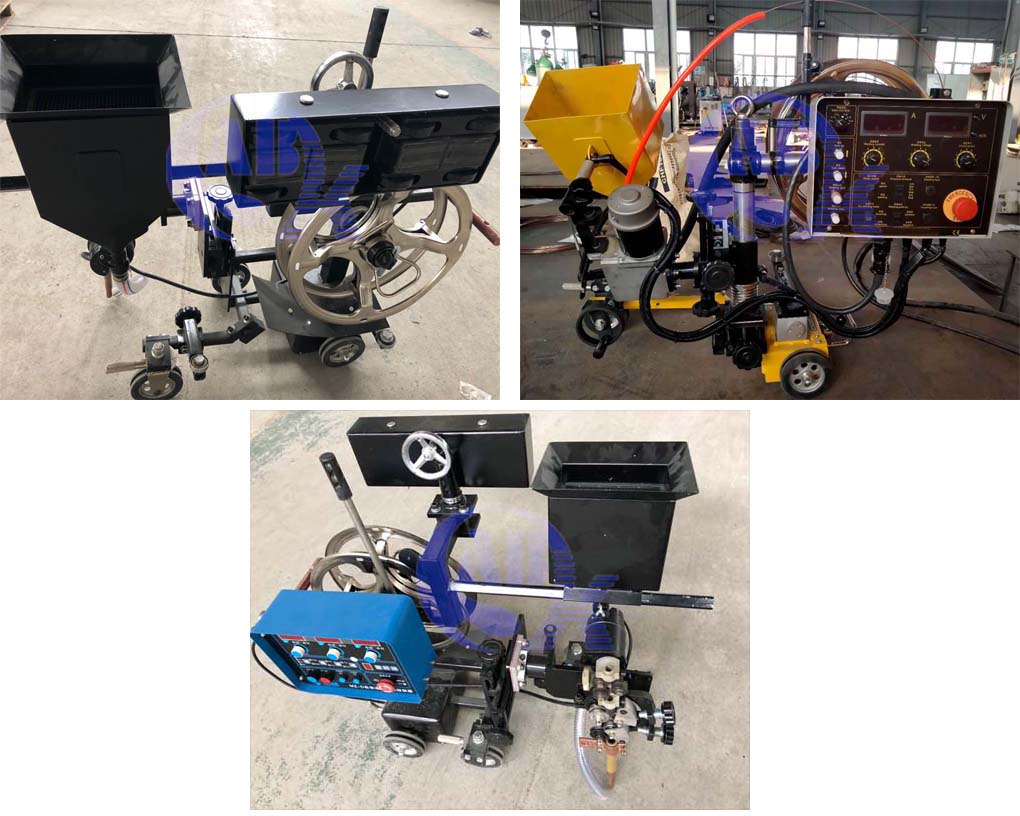 Established in 1999, Wuxi ABK Machinery Co.Ltd is a professional manufacturer of welding positioner in China. Apart from welding positioner, we still have many other high-quality products, such as welding rotator, welding turnable, wind tower production line, H beam welding line, pipe welding equipment, CNC cutting machine, grinding machine, roll forming machine, plate bending machine, etc. With ISO and CE certification, our products are quite popular among clients from Spain, India, Germany, South Africa, Brazil, Chile, Argentina, Russia, Italy, France, Vietnam, and more. If you need welding positioner, please contact us freely.