automatic welding robot
It is used for automatic welding of circular pipe ring. The design, manufacture, installation and commissioning of the equipment shall be delivered to Party B after the equipment acceptance is qualified. After friendly consultation between the two sides, the technical proposal is as follows.

Container robot automatic welding
System of vertical robot consists of a FANUC M-10iA station of the welding robot, a set of 4T rotating ring seam positioning machine, two sets of FANUC 4.5KW robot servo motor, two sets of Teijin RV reducer, automatic walking type rail. The clamping positioning tool, MEEGMET ARTSEN 500 C welding system, TBI82W welding kit, consisting of safety protection and electric control system. Each workstation can coordinate linkage of the total number of axes for the 9 axis, the robot station vertical installation, safe and reliable.
Main information of workpiece
| | | |
| --- | --- | --- |
| No | Workpiece information | Content |
| 1 | Use object | Pipe girth welding |
| 2 | Model | Diameter≤φ800mm;Length≤4000mm |
| 3 | Material | Q235 |
| 4 | Welding method | Gas shielded arc welding(MAG); |
| 5 | Weld profile | Outer ring and inner ring joint |
| 6 | Protective gas | Mixed gas80%Ar-20%CO2 |
| 7 | Specification of welding wire | Φ1.6mm; |
| 8 | Weld seam accessibility | ≤90%; |
| 9 | Surface treatment | To clean up the oil, and other impurities, the weld to find a place to Polish; |
| 10 | Component dimensions | Group pair gap≤1mm;Repeat accuracy of parts≤1mm. |
The factory environment requirements
1.Ambient temperature: operating temperature of 0 ~ 45 degrees C; temperature coefficient of 1.1 degrees C /min.
2.Relative humidity: environmental humidity 20% ~ general 75%RH (no condensation occasions); short term (within 1 months) following 95%RH (non condensing occasions).
3.Requirement of factory compressed air
Compressed air pressure: 0.5-0.7Mpa; compressed air
Outlet pipe diameter: 1 inches;
The dew point temperature is -40℃;Solid particle size≤0.1um;oil content≤0.01mg/m³.
4.Factory electricity demand
All the electrical and electronic equipment manufacturing power supply using 50HZ (+ 1), 380V (+ 10%) three-phase AC voltage, to ensure that the power supply to a ground.
5.Workshop Foundation requirements
Workshop ground requirement: foundation ground is compacted, ensure the compressive strength is greater than 0.12MP workshop ground concrete compressive strength is greater than 23MPa (suggest concrete grade C30 above).
The scope of supply
No

Parts

Name

Unit

Quantity

Remarks

1

Robot system

M-10ia Robot body;

set

1

FANUC

R-30iB Controller B-CAB cabinet and control cable;

set

Arc welding software package, welding seam tracking, arc tracking and other functions;

set

Color display device and 20m flexible cable;

set

Rotary servo motor of variable bit machine and flexible cable;

set

2

Welding system

ARTSEN 500C Welding power source;

set

1

MEEGMET or

Lincoln

External wire feeding machine VR1500;

set

Protective gas detection switch, pressure reducing valve, flow meter;

set

The trachea, control cable; wire barrel accessories.

set

The trachea, control cable; wire barrel accessories.

set

3

Suite of

welding torch

External 22° water-cooled torch gun neck;

set

1

TBI

Install the module and clamping mechanism;

set

The welding torch cable, cable bracket and gun accessories.

set

4

4T Rotary positioner

Head positioner and structure;

set

1

FANUC

Rotary positioner and structure;

set

Rotary shaft motor, drive and control cable;

set

Rotation axis main shaft box and speed reducer;

set

Axis of rotation main shaft box and speed reducer;

set

Lock cylinder, solenoid valve, gas pipe, joint;

set

Rotary support, drive gear;

set

Towline, protective cover, bracket and accessories etc..

set

5

Electrical control and safety protection system

PMC Software programming

set

1

Master

Hyper

Electric control cabinet, control cable and wire slot;

set

Three color warning lamp, buzzer dual alarm device;

set

Electrical protective frame and accessories.

set

6

System integration

Packaging, transportation and insurance.

time

1

KING

LASER

Installation, commissioning and acceptance.

time

1

Training at least three employees to be able to operate the robot independently.

time

1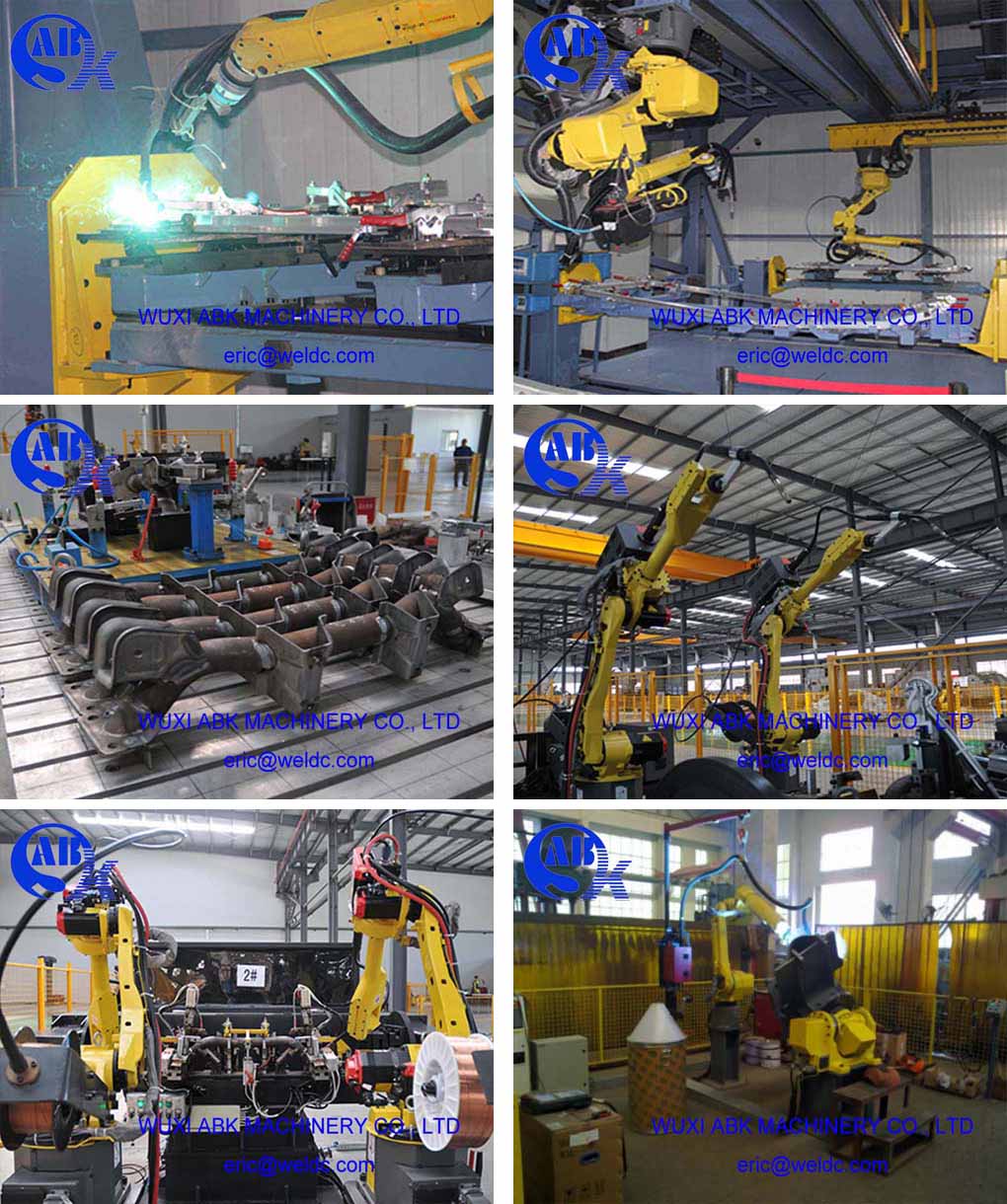 Established in 1999, Wuxi ABK Machinery Co.Ltd is a professional manufacturer of welding positioner in China. Apart from welding positioner, we still have many other high-quality products, such as welding rotator, welding turnable, wind tower production line, H beam welding line, pipe welding equipment, CNC cutting machine, grinding machine, roll forming machine, plate bending machine, etc. With ISO and CE certification, our products are quite popular among clients from Spain, India, Germany, South Africa, Brazil, Chile, Argentina, Russia, Italy, France, Vietnam, and more. If you need welding positioner, please contact us freely.